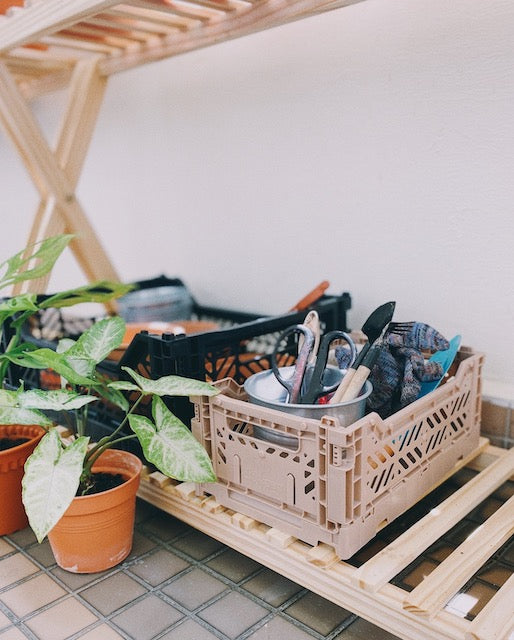 10 Home and Decor Ideas to Spark Joy in Your Life!
Our latest collaboration with State of Matters has got us in the Marie Kondo mood! We know you might be overwhelmed trying to adjust your life to this new normal, so we're here to share these 10 home organisation ideas that will spark some joy in your life! 
1. Make a Joyful Entrance with a Rainbow Door Mat
No better way to spark joy in your life than to have this beautiful rainbow door mat from Speckled Space to greet you at your entrance! This will give you another reason to smile every time you return home :) 
Shop here
2. Bring the Fairytale to Your Little One's Nursery with Toadstool Baskets 
Create a magical forest in your little one's bedroom with Momiji's Toadstool baskets or add a bit of fun with their Strawberry baskets. These are perfect for storing your little one's toys, stationaries, craft supplies and knick-knacks. 
Shop here
3. Stylishly Organise Your Little One's Snack Corner with Mini Crates
Mums, we heard you needed some help organising your Little Blossom snacks at home so we teamed up with State of Matters for this bundle! We picked the Minibox (worth $6.90) in best selling Milk Tea colour for you, as it's the perfect size to organise your little one's snack corner and can nicely fit 4 packs of our puffs!
Shop here
4. Empower Your Little Ones to Tidy Up Like Marie Kondo with these Adorable Toy Bin Labels 
Empower your children to tidy up their toys independently with these custom toy bin labels from Urban Lil. Each label comes with a hand-drawn icon and name that allows your child to recognise the bins that each item belong to whilst sprucing up the play space.
Shop here
5. Keep Whites and Little One's Delicates Separate with a Multi Tier Laundry Basket 
Style Degree's Multi-Tier Laundry Basket makes sorting laundry so much easier! It features a large base basket with a carrying handle for better portability. The upper basket(s) are angled and adjustable perfect for sorting out lights and darks, or separating your little one's clothes. What's more, the top layer offers storage for laundry powders and detergents! 
Shop here
6. Achieve #fridgegoals with These Multi-Coloured Crates
Find yourself spending more time checking the fridge when you're working from home? Here's another idea on how to use your State of Matters minibox. They are also perfect for food storage and categorising the items in your fridge as they are food-safe, water-proof and durable. The best part? They come in 26 colours!
Shop here
7. Make Every Day Living Sustainable with Reusable Snack Bags
Keep your little one's snacks close at hand with this eco-friendly snack bag from The Paper Bunny. Perfect for keeping their snacks air tight or stashing it into your on-the-go diaper bag!  
Shop here
8. Organise Your Plant Babies' Nursery with these Crates 
This one's for plant parents! We know that your plant babies need just as much tender loving care and space to grow so don't forget to keep your gardening tools organised with State of Matter's trusty crates. Opt for the bigger midiboxes if you have more tools in your shed than you can handle!
Shop here
9. Declutter Your Wardrobe with this Magic Pants Clip
We never would have thought that this would be the best selling item in Ezbuy's home organisation section (over 16k units sold!), but it's ingenious, and such a steal! Give your husband a Father's Day surprise by helping him to get his pants organised :D 
Shop here
10. Stash Away Your Cables with this Cable Organiser
Bid farewell to a messy tangle of wires and cables on your floor or desk with this cable manager that stores your power strip, wires, chargers and outlets – neatly and safely away from your little ones!
Shop here
Liked reading this organisation guide? Subscribe to receive more content like this!